REMARKS
Daniel Alemu, UNFPA Representative, a.i. 
Excellency Dr. Hok Kim Cheng
Director General for Health, Ministry of Health
Ms. Asheena KHALAKDINA           
Team leader Health Emergency Program WHO
Dr. Kol Hero                              
Director of Preventive Medicine Department, MoH
Distinguished colleagues, Chhum Reap Sour (Good morning)!
On behalf of UNFPA Cambodia Country Office and my colleagues, it is my honour to join you today in this dissemination workshop on the National Strategy on Disaster Risk Management for Health 2020 – 2024. I would like to express my thanks to the Ministry of Health, H.E. Dr. Hok Kim Cheng, in particular the Preventive Medicine Department for organizing today's workshop. I would also like to appreciate the partnership between the Ministry of Health and UNFPA in supporting this important workshop and priority in Cambodia.
Cambodia is considered one of hazard-prone countries in South-East Asia and floods are one of the major hazards that affect it. In recent years, the country has become more vulnerable to floods that occur almost yearly, cause widespread damage and affect the lives and livelihoods of hundreds of thousands of Cambodians. The recent flood due to heavy rains in late 2020 yet is another example.
In order to mitigate risk from the disasters, there are needs for strong leadership, organization and coordination, clear lines of accountability and communications. These pre-requisites need to be in place throughout the four phases of Prevention, Preparedness, Response, and Recovery phases of the disaster risk management.  
Excellencies, Ladies and gentlemen!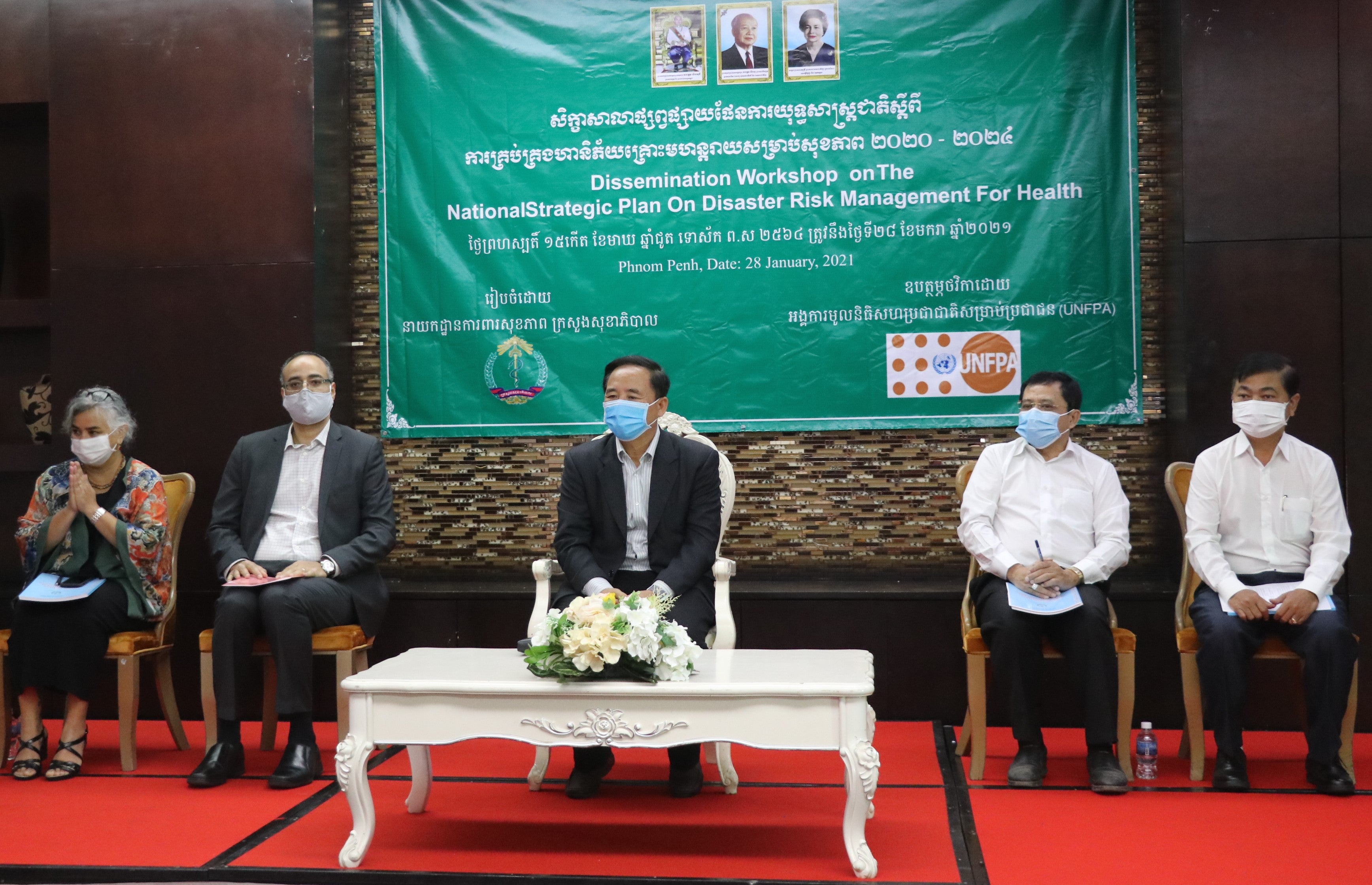 This National Strategic Plan on Disaster Risk Management for Health outlines the Royal Government of Cambodia's response to the growing challenge of the risks arising from natural hazards, communicable diseases and pandemics. All disasters have a cost in terms of deaths and suffering, and have additional impacts on public health due to poverty, hunger, unemployment, displacement and migration, that in turn increase the people's, and the country's, vulnerability to renewed disasters.
In terms of vulnerability, women and girls are particularly more vulnerable during disasters than other groups of population, including their safety and security, access to quality sexual, reproductive and maternal health services. Women and girls are at a greater risk of violence including sexual violence during crises or emergencies.
Health emergency risk management requires multidimensional approach, thus the Ministry of Health should work together with other ministries and institutions, humanitarian development partners, and donor agencies, in order to address the specific challenges of each phase of the emergency risk management cycle, particularly for women and girls.
Excellencies, Ladies and gentlemen!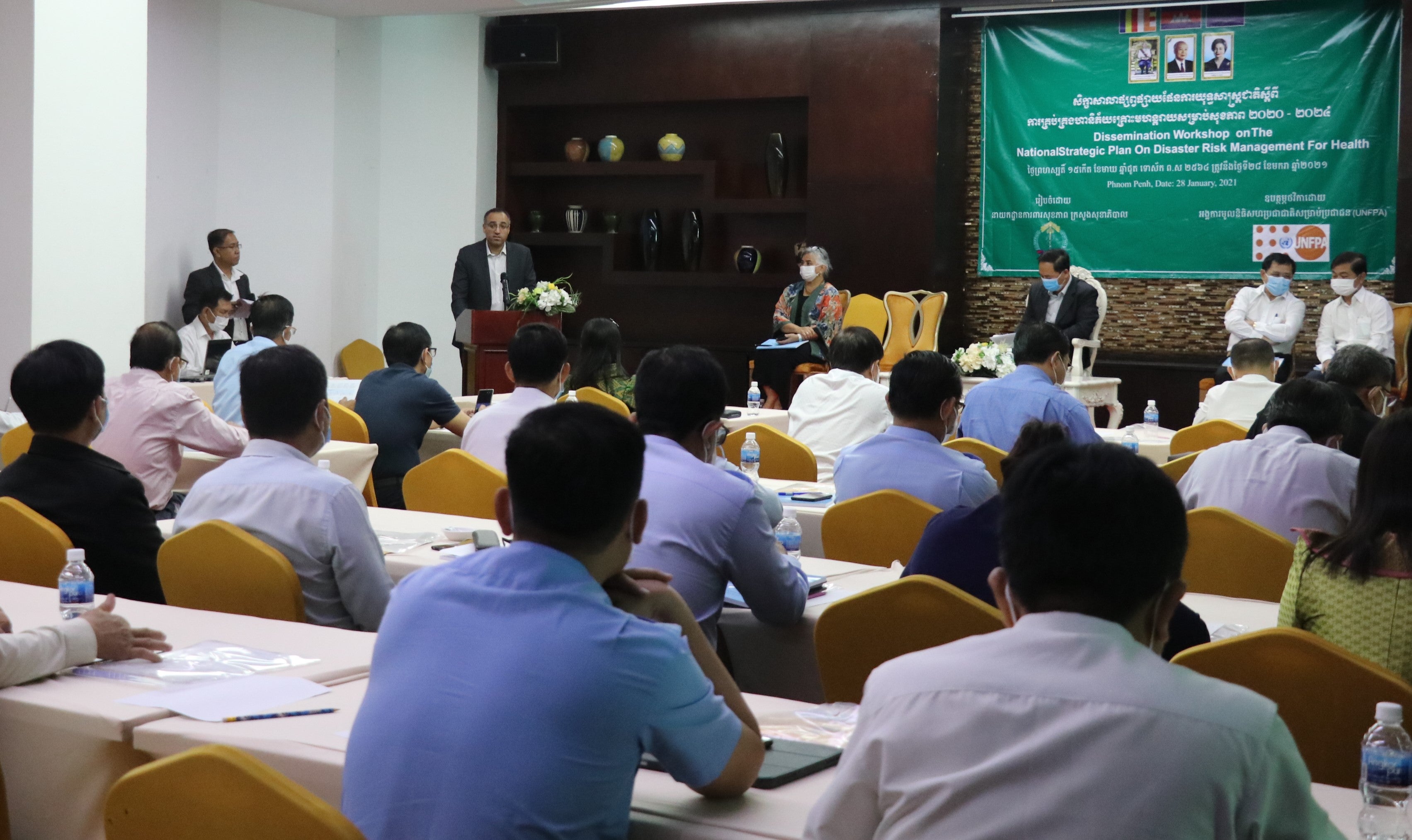 In ensuring safety, security, and access to essential sexual reproductive and maternal health services during disasters, UNFPA has developed the Minimum Initial Service Package (MISP) for Reproductive Health, which is a coordinated set of priority activities designed to: prevent and manage the consequences of sexual violence; prevent excess maternal and newborn morbidity and mortality; reduce HIV transmission; and plan for comprehensive RH services beginning in the early days and weeks of an emergency. This set of activities must be implemented at the onset of an emergency in a coordinated manner by trained staff. The MISP can be implemented without an in-depth RH needs assessment because documented evidence already justifies its use. The MISP sets out the life-saving criteria and its components form a minimum requirement, and it is expected that scale-up and an expansion to comprehensive RH services will occur as soon as the situation stabilizes.
I would like to congratulate the Ministry of Health for taking the opportunity of this strategy development to fully incorporate the MISP into it and subsequently the development of the MISP training curriculum for healthcare providers.
UNFPA is proud to be a long-term partner with the Royal Government of Cambodia, the Ministry of Health, in providing technical and financial assistance in ensuring universal access to sexual reproductive health and rights and in preventing maternal and newborn mortalities and morbidities in Cambodia, including during disasters or emergencies.
In closing, I would like to thank the Ministry of Health, H.E. Dr. Hok Kim Cheng, Dr. Kol Hero, Dr. Lak Muy Sreang and colleagues from the Preventive Medicine Department, from the Provincial Health Departments, Operational Districts, Health Centers, development partners, and NGOs for organizing and participating in this important workshop. 
Or Kun!