Steung Treng, 30 November 2016 - It was around 9:00am when a quiet Wednesday morning started turning into an eventful day for Steung Treng town. The drum of Khmer traditional Chai Yam (ឆៃយុាំ) was loud as the music group along with 400 people was parading the main streets of Steung Treng town. Passengers, street vendors and business people stopped their routine tasks to see what the buzz was about.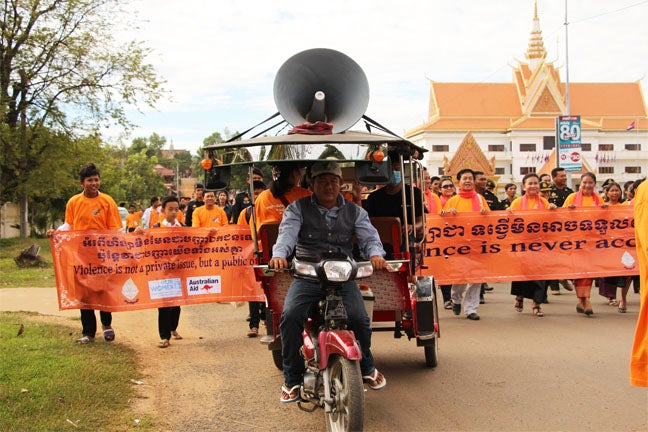 "Violence against women and girls should never be tolerated!" - the sound of the megaphone on top of the Tuk Tuk in the parade was heard in the neighbourhood. "Let's end violence against women and children!" echoed the marching crowd in unison who dressed in orange with a cheerful smile on their faces.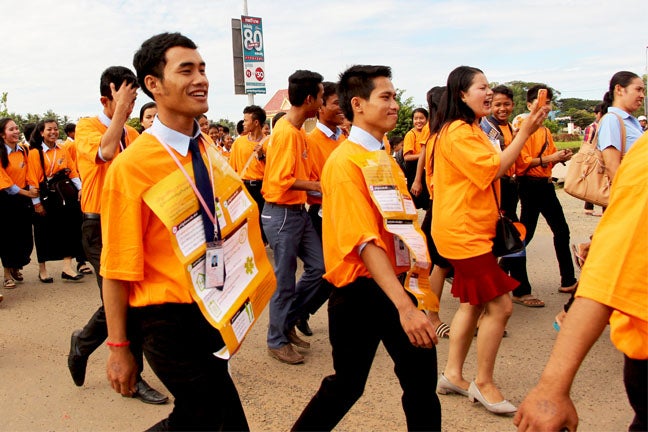 The parade was joined by high school students, youth volunteers and local authorities; they were holding orange banners that say "End violence against women and children. It starts with us!" which was this year's theme of the 16 Days of Activism against Gender-Based Violence Campaign in Cambodia.
Organized by the Ministry of Women Affairs with the support from UNFPA Cambodia, the parade aims to raise local awareness about violence against women and girls and put an end to the norms that condone such violence.
"Some men still think they are superior to their wife and that they have the rights to beat the latter. This kind of gender-biased thinking has been instilled in people's mind for a very long time and we need to put an end to it. We must leave no space for violence in our culture," said Her Excellency Pung Sipha, Steung Treng Deputy Governor during her opening remarks for the parade.
"Though it is hard to change mindset of people who are older, I am hopeful that our youth are the change catalysts. The thinking that violence is never tolerable should start from a very young age and that is the purpose of today's parade," added Mrs. Pung.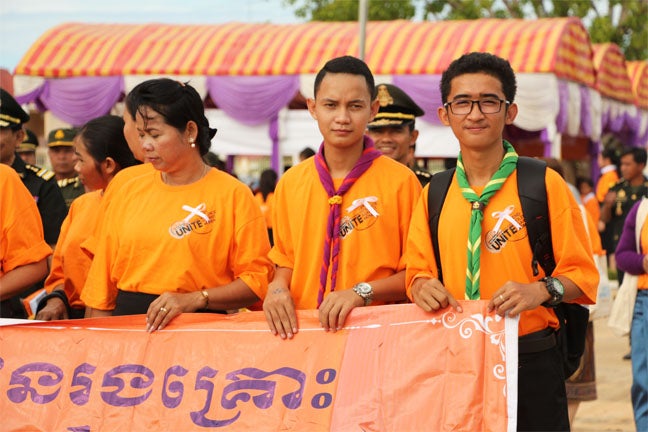 Ream Kimleng, who led youth in his school to join the marching, expressed his excitement for the event "When I heard the sound of the marching on the street, my heart filled with joy and determination. Along with the crowd I shouted. I felt happy to be a part of the campaign,".
The 17-year-old boy scout said he wanted youth to participate more in the campaign so that they will understand more about violence against women and girls and how the issue impacted their community.
--
The parade is one of many activities that UNFPA Cambodia has organized for the 16 Days of Activism against Gender-Based Violence Campaign. Find out more about our activities for the campaign here!