More young Cambodians aged 15-24 years old are sexually active before marriage, according to new findings from the Sexual and Reproductive Health of Adolescents and Youth in Cambodia report produced by the Ministry of Planning with support from UNFPA. The report aims to investigate the trends of adolescents and youth behavior in sexual and reproductive health from 2000 to 2014, using the data from Cambodia Demographic and Health Surveys (CDHS).
Based on the analysis, the percentage of young female adolescents and youth who were having premarital sex increased from 0.2% in 2000 to 1.1% in 2014. As for males, despite a drop from 11.5% in 2005 to 8.4% in 2010, it percentage up again to 11.3% in 2014.
Sex before marriage is considered a taboo in Cambodia. As women tend to face more social pressures compared to men both not to engage in premarital sexual activity and not to admit if they have had premarital sex, the true percentage of sexual activity among unmarried women is probably higher than reported, Dr. Elizabeth Hoban, Associate Professor in Faculty of Health in Deakin University commented on the report.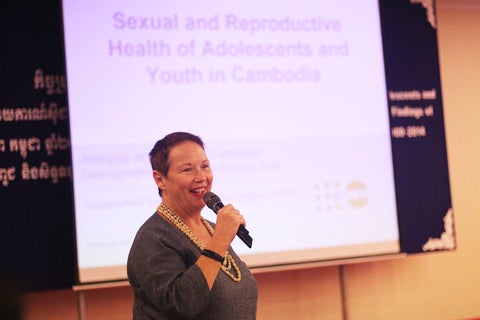 "Around 5%-10% of all births that occurred among women aged 15-24 years old occurred within 9 months of marriage. This indicates that young women are having sex before marriage and that does not include women having sexual encounters that do not result in live births," she added.
With more young people sexually active, there are growing concerns over their behavior towards safe sex practices and contraceptive use. The report found there has been a decrease in male condom usage among Cambodian young population, with the percentage dropping from 30.9% in 2005 to 17.6% in 2014. Youth awareness of HIV/AIDS remains low, with only 38.5% of women and 47.6% of men expressing having comprehensive knowledge of the condition.
Expressing his concerns over youth sexual health risks found in the report, UNFPA Cambodia Representative Dr. Marc Derveeuw called upon relevant development partners and government agencies to work together to improve young people's access to sexual and reproductive health information and services. He also emphasized the importance of having data on young people's behavior in sexual and reproductive health.
"The increased teenage fertility rate in Cambodia is critical and with data like this, it can guide our programmatic intervention to the right direction. We know the target groups and understand their problems, so we can tailor our solutions to their real situations and needs," said Dr. Derveeuw.
--
The Sexual and Reproductive Health of Adolescents and Youth in Cambodia report has been prepared by the Ministry of Planning with the support from UNFPA. You can now download the report in Khmer and English.