This blog article is written based on DJ Nana's personal views.
My daily life consists of travelling back and forth between TV and radio stations. Sometimes in a day I change into three different looks, travel to three different places, and talk about three different topics.
Unlike most people who have to work 8 hours a day, I am a freelancer, an on-demand service provider. Some days I work one hour while some other days I work 15 hours.  
With more than 300K followers on my Facebook page, I can easily start advertising business. It's very lucrative here in Cambodia.
Instead I have decided to use my fan page as a platform where I speak up for women and young girls.
I film myself live on Facebook during my call-in radio show ធូរទ្រូង (meaning "relieved" in English).  ធូរទ្រូង is a radio programme that allows listeners to call in, tell their problems and seek advice and counseling mostly on the issues of love, self-esteem and family.
I also film myself answering fans' questions personally submitted to my Facebook page even not during my show, meaning non-paid.
Why? You must think I am a kind person, don't you?
Not quite. I am actually doing this for myself, my future daughter and my niece.
Break the cycle, change social stigma
I remember five years ago during my old call-in radio show, a female garment worker told me that her neighbor came to her room and raped her. I felt tensed but ready to give her advice on how to seek help.
I had prepared all the legal contacts that she might need. But do you know what she asked me? "How can I love him?"
Even though it was clearly a rape case, the girl did not consider it as the perpetrator's fault. She thought she was worthless and was trying to do everything to make the man stay with her.
At that very moment, I thought back to myself. If I don't do something about it, the next victim could be my future daughter and maybe other female relatives of mine.
I told the girl I would not answer her question "How can I love him?", but I would suggest her to file a complaint or call a police.
I said to her "If you decide not to file a complaint, you should at least try not to be in a relationship with him. There is no love in violence. And if you form a romantic relationship with him, it means that you support him and other men to do that to other women, raping and using violence in the name of 'love'."
If our society keeps having stigmatized perceptions about how girls and women should be valued and about how it is OKAY and ACCEPTABLE for us to be abused and exploited, the cycle will continue and then who knows? The next victim can be you, your sister or your daughter.
Therefore, speaking up for girls and women means speaking up for my daughter, my niece and myself. No second thought about it.
Getting women and girls' voices across
One of my fans called in to my show two years ago and told me her story, how she ran away from home with her boyfriend to live in Siem Reap, but a few months later he left her. Alone and penniless, the 19-year-old girl ended up being an entertainment worker and slept with customers just to buy food and pay rent.
She badly wanted to go home, but felt ashamed to do so. I spent half an hour talking with her on my show. "There was no place better than home," I told her. I also advised her to get an HIV test once she got back.
As luck would have it, her sister was listening. She called in to my station and left a message for her sister: "Please come home. We will forgive you everything you have done."
Touched by her sister's words, the girl eventually went home. (She tested negative for HIV.)
That girl's story is just one of an untold number of such cases in our country.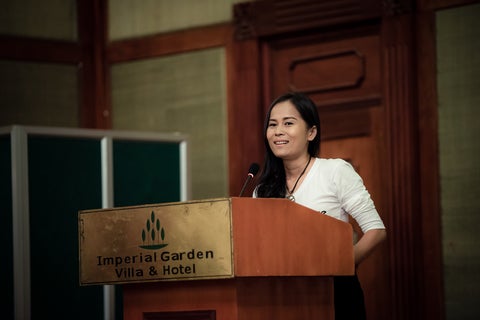 What I am trying to do every day is getting such stories and my advice across to young people, preventing them from making wrong decisions in life that are purely based on social stigma and stereotypes.
Radio is my main channel for communicating with the public, but I also use my personal Facebook page specifically to reach out to young people. The live video streams of my counseling sessions with listeners reach an average of 2,500 people a day.
Every now and then, I have been also invited to speak about women empowerment in events such as panel discussion, seminar and capacity building workshop.
Listeners, both males and females, have told me that my counseling has changed their perceptions. Knowing that inspires me to speak out more on behalf of girls and women because by doing so, I am making my society a little safer for myself, my future daughter and other Cambodian women.
My message to women and girls
We can't choose which society we are born into, but we can choose what sort of society we want, and whether it is one in which our daughters, sisters and other female relatives are safe and free.
Dear women and girls, it is time for us to speak up. Make it loud and let the world know that we matter.