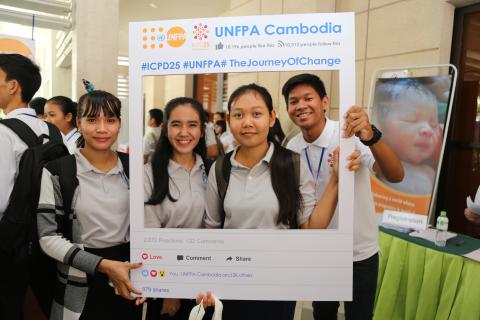 PHNOM PENH –Twenty-five years have passed since that landmark conference, where 179 governments, including Cambodia, recognized that reproductive health and gender equality are essential for achieving sustainable development. 
Recently, Samdech Prime Minister Hun Sen stated, "In this year, marking the 25th anniversary of the Programme of Action, the Royal Government of Cambodia is determined to join the world in commemorating this the upcoming Summit in Nairobi. Having carefully reviewed the results of the 25 years implementation of the ICPD-Programme of Action in Cambodia, and following extensive consultations last year, we reaffirm our commitment to the full and effective implementation of the Programme of Action and stress the relevance of such implementation for achieving the Goals and targets of the 2030 Agenda for Sustainable Development."
This year's World Population Day also marked the 25th anniversary of UNFPA's work in Cambodia and 50th anniversary of the global organization.
In the 25 years since the Conference and UNFPA's arrival, women in Cambodia are now better able to plan the size of their families, while women are less likely to die giving life, with the maternal mortality rate having dramatically reduced from more than 1,000 deaths per 100,000 births in the 1990s to less than 170 in 2015. Young people are also more connected and empowered than ever before.
However, there is still work to be done. According to the last Cambodia Demographic and Health Survey, teenage pregnancy remains a major health concern, with 12 percent of girls aged 15-19 already mothers. UNFPA and the Royal Government have made ending the unmet need for family planning and unwanted pregnancies, as well as ending violence against women and girls, top priorities for the achievement of the Cambodia Sustainable Development Goals.
"Imagine your community, your country, our world, where every woman, everywhere, can decide freely whether or when to become pregnant. Imagine a world where gender equality is a reality, where women, men, girls and boys enjoy the same rights and opportunities, where adolescents and young people can live healthy and productive lives," said Rizvina de Alwis, UNFPA Representative in Cambodia.
UNFPA and the Royal Government of Cambodia have worked closely to ensure the reproductive rights and choices of women and young people are respected and addressed, but it can't be done by them alone.
"It's important that the Government and organizations like UNFPA uphold our rights. However, when it comes to choice, it's also up to individuals, families and communities to ensure women, girls and young people are able to access their rights free from stigma and discrimination," said Mr. Yeang Sethsamprathna, Youth Participation and Social Inclusion Advocate.
During the celebration, UNFPA also unveiled a photo exhibit showcasing achievements and champions for change.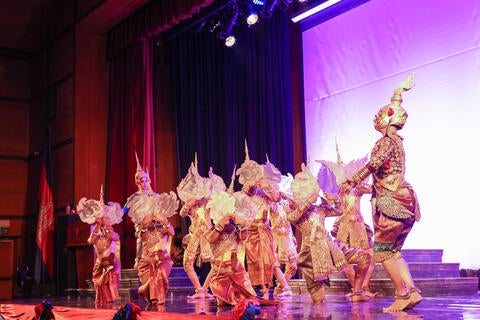 "For 25 years, UNFPA has stood with the Royal Government to ensure choice. Today we celebrate the choices and victories obtained. Tomorrow, and every day after, we will continue to stand with every woman, girl and young person in the pursuit of rights and choices for all," concluded Alwis.
The World Population Day celebration also featured traditional dance and speakers highlighting some of the achievements of the past 25 years possible and hopes for the future.
For more information on the photo exhibition and to watch some of the discussions and talks from the World Population Day celebration, as well as the performance, please visit UNFPA Cambodia's Facebook Page.
For media inquiries, please contact:
Ms. Pen Sophanara, Communications Associate at sophanara@unfpa.org, telephone: 012-602311.
_____________
About UNFPA
UNFPA is the lead UN agency for delivering a world where every pregnancy is wanted, every childbirth is safe and every young person's potential is fulfilled. UNFPA reaches millions of women and young people in 155 countries and territories.