Phnom Penh, Cambodia: More than a thousand youth gathered at the annual celebration event of the International Youth Day on 12 August 2015 and inspired their peers to talk openly about sexual and reproductive health issues with their parents and siblings.
The UN Population Fund (UNFPA) joined the Ministry of Education, Youth and Sports, other UN agencies in Cambodia and non-governmental organizations to organize an event for thousands of young people from different schools and interest groups such as LGBT and disadvantaged communities to show their talents and hear the promise of government officials and policy makers in making their dreams come true. The theme of this year was "Youth Civic Engagement", where young people could express their ideas to shape a better society and address the challenges preventing them achieving their full potential.
"Whenever I go somewhere, people stare and look at me in a funny way. I usually hear the laughter and jokes made about my girly character - but that's alright", expressed, Kanha a young man who has become a pop dance performer in the last few years at the International Youth Day parade. He received a blaze of cheer from the youthful crowd as he performs.
With the strong goal of empowering youth to fulfill their potential, UNFPA Cambodia staged a booth interacting with young people to share knowledge related to family planning and sexual and reproductive health, listen to their concerns and needs and encourage each other to make informed decisions and discuss about this topic with parents and siblings at home and in their community.
A number of active young participants discussed and debated among their peers before they jotted their ideas and recommendations about youth sexual and reproductive health and access to confidential, nondiscriminatory health services down the colorful flower and animal shaped papers; then dropped them into the rattan basket hanging up on the UNFPA tent.
An active member of the Young Southeast Asian Leaders Initiative in Cambodia, Mr. Leav Kimlay recognizes that youth plays an important role in boosting the country's economy. Moreover, their sexual reproductive health knowledge is even critical if they want to build the safe community for their generation and the next. "Youth should not engage in sexual relationship unless they are matured enough, in terms of skills, knowledge and economic status. I, myself, refrain from sexual relation until I achieve my goal, to have a strong social and economic position", said Kimlay.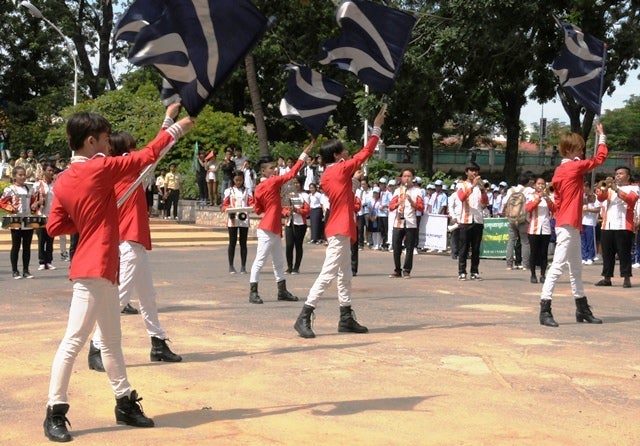 Kimlay believes that his commitment placed in the wicker basket would inspire other young people to think twice before engaging themselves in a sexual relationship and adopt safe behaviors when they are. He admitted that almost no parent likes to discuss about sexual issues with their children: they prefer that children follow their advice when it comes time to get married. Like other young people participating in the booth, Kimlay encourages youth of today to be more assertive and to discuss about sexual and reproductive health and rights with their parents and siblings. This could not only make their parents more supportive of their children's informed decisions, it could also change some harmful mindsets and norms that have been rooted in Cambodian's society.
In order to realize the potential, talent, creativity and energy of 4.6 million young people, UNFPA empowered students and youth audiences attending the event through a fun and engaging activity to make informed decisions about sexual and reproductive health. The ideas and concern raised by youth during the discussion will be incorporated in the UN Youth programming where UNFPA plays an active role coordinating the UN Youth Task Force in the development of upcoming interventions.
To read more about our work on youth, please like our page https://www.facebook.com/unfpacambodia and follow us on https://twitter.com/