On 7 July 2016, UNFPA Cambodia handed over a van to the Ministry of Planning (MoP) to facilitate the nationwide data collection of Cambodia's 3rd population census in 2019. The handover ceremony was presided over by H.E. Chhay Tan, Minister of Planning and Cambodia's Senior Minister and Dr. Marc Derveeuw G.L., Country Representative of UNFPA Cambodia.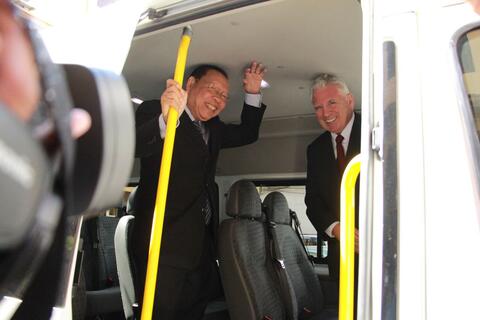 H.E. Chhay Tan expressed his sincere appreciation for UNFPA's cooperation with the government in conducting the population census since 1998. "The vehicle provided by UNFPA today will be used by our staff when going the field in 2019. It will facilitate their works in going from house to house to collect data for the census" said the Minister of Planning.
Cambodia conducted the first ever census in 1998 after a major civil strife and instability in the country; the second census was in 2008. Conducted every ten years, the census aims to gather updated population information including population size, geographic distribution and social and economic characteristics of the people. The 2018 Cambodia's population census will provide the largest data collection ever to be used for evidence-based programming and planning for all sectors in the country.
"Census is more than just counting people," said Dr. Marc Derveeuw, UNFPA Cambodia Country Representative. "The 2019 population data will strengthen the demographic evidence base for monitoring Sustainable Development Goals progress in Cambodia"
UNFPA has been one of the leading partners in supporting the data collection for national census since 1998. We also provide technical support to the Ministry of Planning throughout the planning and implementation process and analysis of data. UNFPA believes in using demographic evidence for effective and successful policy and programme development in Cambodia.